To German Site / Deutsche Website
Welcome to DANUR CFS Online, the home of
FLIGHT OPERATION CENTER
Simpilot's Edition (Online Version)
NEW VERSION: 1.28 Now Available!
The closest thing to real world flight dispatching you'll ever see!
The only flight planning suite to use real world ARINC Navigational data, upgradeable every 28 days (for details click here) and real world Upper Wind Model Forecasts.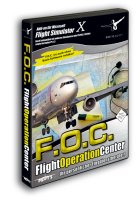 Learn more about this new version.
Current FOC Users: FOC SE includes the same features as your current FOC 1.27 software but adds a printed manual to your experience. FOC SE needs a connectivity pack in order to download weather and navdata from our servers. So FOC 1.2x Users who own the online version only need SE if they specifically want the printed manual.

DANUR WEATHER STATION
New Version 1.26 available!
Collect and review world wide METAR and TAF data supplied by NOAA. Create your very own Weather Desktop with Quick Access.

HOT NEWS: Site re-organisation is in progress.
Check for product news via the NEWS page only.

DANUR COMPUTER FLIGHT SYSTEMS: High End Software for Aviation and Flight Simulation.
Contact Information
Electronic mail

General Information: Sales Office
Webmaster: Webmaster