Flight Operation Center
The Professional Flight Planning Solution for Serious Flight Simulation People!
Download Now: Go to the FOC Download Page for Installation Files and Updates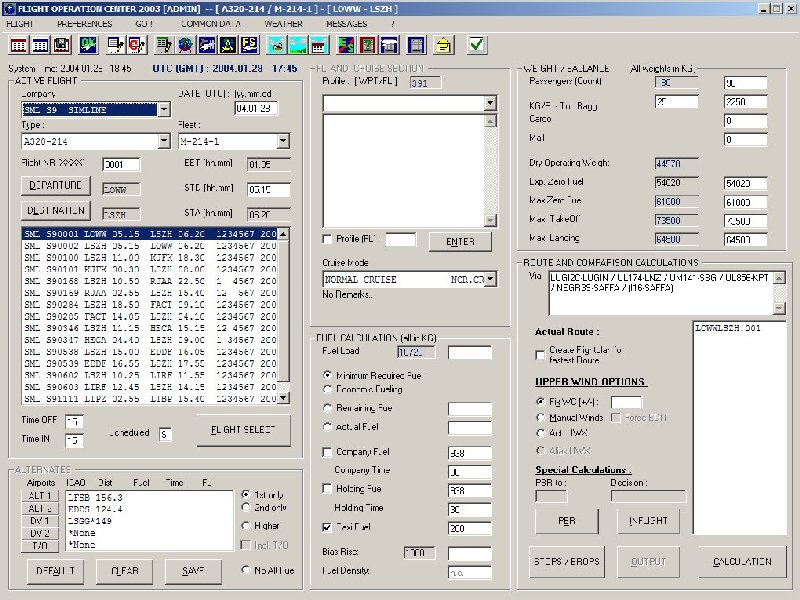 Flight Operation Center Main Screen
Flight Operation Center
Other than most flight planning products in the entertainment sector, Flight Operation Center is a highly sophisticated tool that equals many features only seen in real world airline operations. Programmed by a team of dispatchers, pilots and FS enthusiasts, it presents a new world to those who take their PC flying serious and want to expand their knowledge into airline operations.
Some of the features include:
∑ Full Worldwide Navigation Database, including world wide SID-STAR routes, Airways, Waypoints, Navigational Aids, and many more features.
∑ Flight Operation Center will accommodate any type of aircraft from small propeller airplanes to the largest, ultra long range jet transport aircraft with exact accuracy, several different cruising modes, abnormal configurations and many other possibilities.
∑ The aircraft database covers a wide spectrum from Boeing 747-400, MD11, A320, MD83 to smaller airplanes like the Socata TB20. The comprehensive flight model editor allows you to enter any type of own airplane to a degree of accuracy never seen before in PC Simulation. New aircraft included in this release include various Boeing types, Saab 340 and Concorde, all created by FOC Power Users.
∑ Virtual Airlines will love the features of Flight Operation Center that will let them handle their extensive schedules while keeping track of their pilotís performances. Operate like mayor air carriers and get the flight planning support to your pilots quick and painless.
∑ Flight Operation Center offers for the first time features like ETOPS, EROPS, STOPS operations, special cruise modes and North Atlantic Track support.
∑ Plan your flights with real weather conditions, downloadable from special websites on the Internet.
∑ Create your own weather scenarios using the weather editor. Or check the surface weather with our METAR and TAF viewer. The download of weather data is fully automatic.
∑ Manage your routes with an extensive route editor. Use exciting new features such as Trunk route support, automatic route generation for North Atlantic tracks, minimum time track calculation and many more.
∑ Amongst the entertainment features are direct creatable ATC adventures for MS Flight Simulator 2002 and before, Flight Plans for EFIS 98, FS2000, ACSGPS and many other FS featured addons, mode files for Airline Simulator 2 including FMS routes, FMS route files for PS1.3 and many other features that are even now added while you are reading this offer.
∑ Compare routes under real weather conditions using the city pair comparison feature. Create realistic flight logs, ATC flight plans and weather reports for your planning.
∑ Take your long range planning to the edge with Decision Point Planning.
Key Benefits
| | |
| --- | --- |
| | Affordable flight planning system for PC Simulation or training purposes |
| | Included Weather Data subscription for 12 months |
| | Interfaces with most flight simulation products. |
| | Updateable Navigational Database on subscription basis. |
Pricing
| Description | SKU # | Price EU | Price other |
| --- | --- | --- | --- |
| FLIGHT OPERATION CENTER version 1.2 | EUR | 66.00 | 55.00 |
| Weather Server Subscription 12 Months | EUR | 12.00 | 10.00 |
| FLIGHT OPERATION CENTER VA Client | EUR | 15.00 | 12.50 |
Download Now: Go to the FOC Download Page for Installation Files and Updates