Flight Operation Center Special Edition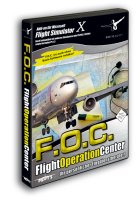 This version of Flight Operation Center is a combined effort of Pilots software in Vienna and Aerosoft of Paderborn, Germany to bring FOC to customers not connected to the online world. FOC SE is available as a boxed version with full printed manual also in German language, a long standing request of many customers as well as a downloadable version (on the request of Aerosoft). It is attractively priced for those who do not need our online features or who want to experiment at their leasure before expanding to the online features.
Existing customers of Flight Operation Center DO NOT NEED FOC SE in order to get to the latest version!
Flight Operation Center SE Connectivity Pack Basic (Connectivity and Weather)
Users who wish to upgrade their boxed or downloaded version of Flight Operation Center SE are invited to purchase the FOC SE Connectivity Packs available here.
What will you get?
| | |
| --- | --- |
| | This pack upgrades the Special Edition to the normal Simpilot's Edition of FOC available on this website. |
| | Included are ONE YEAR of Live Weather and North Atlantic Feed. |
| | This feature also allows you to profit from intermediate upgrades available only to the Online Edition of FOC. |
FOC SE Connectivity Pack Plus (Connectivity, Weather and Navdata)
Additionally to the features of the Basic Connectivity Pack, this package offers to upgrade your Navigational Database to the latest AERAD Cycle.
| | |
| --- | --- |
| | This pack upgrades the Special Edition to the normal Simpilot's Edition of FOC available on this website. |
| | Included are ONE YEAR of Live Weather and North Atlantic Feed. |
| | Also included is a SINGLE Navdata update valid for the time of purchase. |
| | This feature also allows you to profit from intermediate upgrades available only to the Online Edition of FOC. |
Pricing
| Description | SKU # | Price EU | Price other |
| --- | --- | --- | --- |
| Flight Operation Center SE Connectivity Pack BASIC | EUR | 23.88 | 19.90 |
| Flight Operation Center SE Connectivity Pack PLUS | EUR | 35.88 | 29.90 |