Welcome to my Online World
Hi! Welcome to my online world. My name is Urs Wildermuth. I live in Winkel, Switzerland with my wife Ina. For some 20 years now I have been involved in aviation in various capacities such as Flight Dispatcher, Red Cap and currently in Aviation Meteorology. For about the same time, I have been connected with Flight Simulation. Since 5 years I am a freelance writer for the Austrian flight simulation mag FlightXpress. I also own DANUR Computerflight Systems, developers of flight simulation software.
On these pages, I want to let you into my world a little. Wether you are interested in Travel Reports, Flight Xpress, Aviation Pictures or other things, feel free to browse. All I ask of you is to remember that the materials on this website is copyrighted by me and must not be used without my written permission.
I also invite you to visit my guest book, it is part of the DANUR Forum.
Willkommen in meiner Online Welt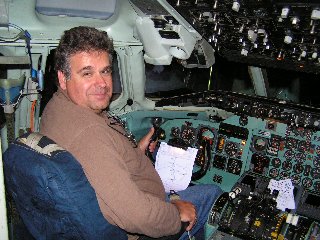 Hallo. Willkommen in meiner Online Welt. Mein Name ist Urs Wildermuth, ich lebe in Winkel in der Schweiz mit meiner Frau Ina. Seit etwa 20 Jahren bin ich in verschiedenen Funktionen in der Aviatik tätig, unter anderen als Dispatcher, Red Cap und Wetterberater. Etwa ebenso lange beschäftige ich mich mit Flugsimulation. Seit 5 Jahren schreibe ich für die Flugsimulationszeitschrift FlightXpress. DANUR Computer Flight Systems, die ich leite, ist Entwickler der bekannten Flugplanungssuite Flight Operation Center.
Auf diesen Seiten möchte ich Euch in meine Welt einladen. Ob Ihr an Reiseberichten, FlightXpress, Fliegerbildern oder anderen Dingen interessiert seid, ich lade Euch zum surfen ein. Nur eines möchte ich Euch bitten zu beachten: Der Inhalt, Bild, Dateien und Texte dieser Website sind mein geistiges Eigentum und damit urheberrechtlich geschützt, eine weitere Verwendung dieser Dateien ist ohne meine schriftliche Erlaubnis nicht gestattet. Danke!
Ich möchte Euch auch einladen, das Gästebuch zu besuchen, es ist Teil des DANUR Forums.