DANUR WEATHERSTATION: Self Briefing for Aviation Pro's.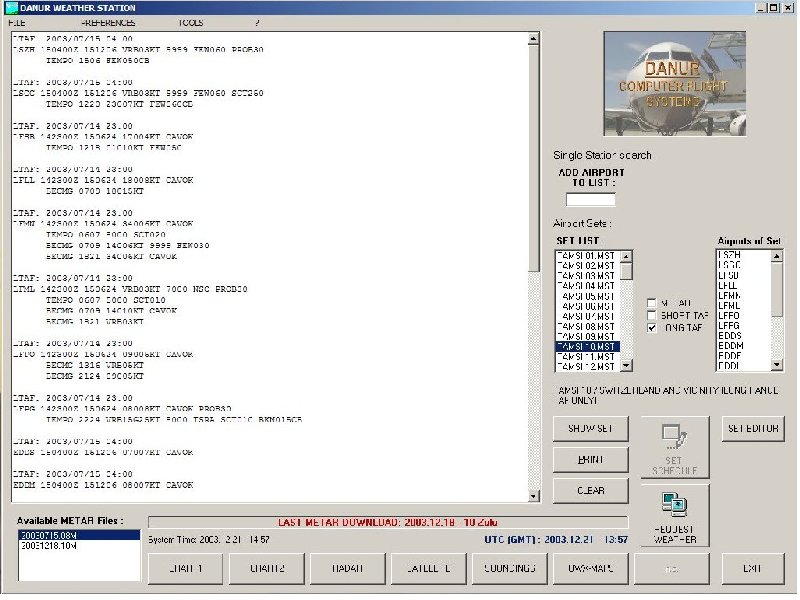 Weather Station Main Screen
Weather Station is a Self Briefing system for aviation weather. Download world wide METAR / TAF Data from our weather server and access weather charts, satellite pictures and other weather data using the pre-programmable high speed buttons on the bottom of the page.
Key Benefits
| | |
| --- | --- |
| | World Wide METAR/TAF Data by NOAA |
| | Quick Access to other weather data using pre- programmable buttons |
| | Create Quick Lists for your most often needed air routes. |
| | Automatic download of weather data possible. |
| | Works together with FOC or as a stand alone product. |
Pricing (excl VAT for EU citizens)
| Description | SKU # | Price |
| --- | --- | --- |
| Weather Station 1.2 software with 3 months weather data subscription | EUR | 30 |
| Weather Station 1.2 software with 12 months weather data subscription | EUR | 40 |
| Weather Station 1.2 software for FOC users with current subscription | EUR | 20 |
| Weather Data subscription 12 months | EUR | 10 |