Download and Purchase Flight Operation Center here
Laden Sie von hier Flight Operation Center herunter
Main Installation File. Download to a temporary folder and execute from there.
Installationsdatei. In ein temporäres Verzeichnis herunterladen und von dort ausführen.
To Upgrade from FOC 1.20 or higher install over the existing version.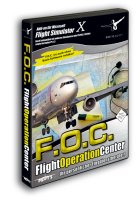 Owners of the boxes FOC Special Edition Version from Aerosoft need this pack in order to get connectivity with FOC SE. Normal FOC 1.27 Users do not need this package.
The manual is in PDF Format. We recommend to download this file fully to your harddrive and to view it from there. To download the file, right-click onto the link above
Dieses Handbuch ist im PDF Format. Wir empfehlen, das Handbuch auf die Festplatte zu laden und es von dort anzusehen oder auszudrucken. Um die Datei herunterzuladen, klicken Sie mit der RECHTEN Maustaste auf den Link.
This Link will transfer you to our webshop, where you can buy your license for Flight Operation Center.
Dieser Link führt Sie auf den Webshop, wo Sie Flight Operation Center lizenzieren können.